Signs & Symptoms
Get the Facts about Ovarian Cancer
Did You Know?
Ovarian cancer is the most challenging forms of gynecological cancers to diagnose.
Ovarian cancer occurs in approximately 1 in 70 women.
Each year over 22,000 women are diagnosed with ovarian cancer.
Detected early and treated properly, survival increases to over 90%
A Pap smear is NOT a test for ovarian cancer, it detects cervical cancer.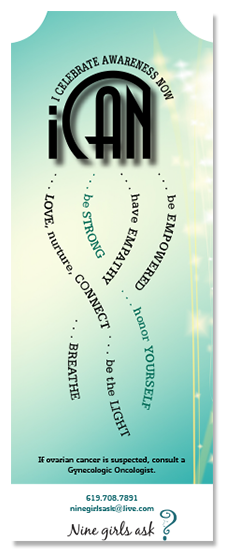 What should I look for?
Abdominal pressure, bloating, or discomfort
Nausea, indigestion, or gas
Constipation, diarrhea, or frequent urination
Abnormal bleeding
Unusual fatigue
Unexplained weight loss or gain
Shortness of breath
See a health care professional if symptoms are unusual for you and persist.
Who Gets Ovarian Cancer?
All women are at risk, but some are at higher risk
Family or personal history of ovarian, breast or colon cancer
Not Bearing children
What Can Reduce the Ovarian Cancer Risk?
Oral contraceptives
Pregnancy and breast-feeding
Tubal ligation/hysterectomy
Removal of the ovaries
What Can You Do?
Until a screening test is found, here is what you can do:
Have an annual vaginal/rectal pelvic exam. If you are at high risk, discuss regular monitoring with your doctor.
If you have symptoms, ask for a transvaginal ultrasound and a CA 125 blood test.
If ovarian cancer is suspected, consult a gynecologic oncologist. To find one in your area, call the Gynecologic Cancer Foundation at 1.800.444.4441.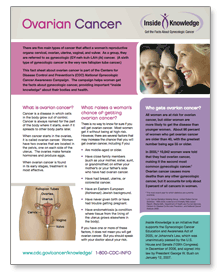 More Information on Signs & Symptoms
The government agency Centers for Disease Control and Prevention (better known as CDC) has information available on Ovarian Cancer as part of their Inside Knowledge series.
Download the flyer (PDF)